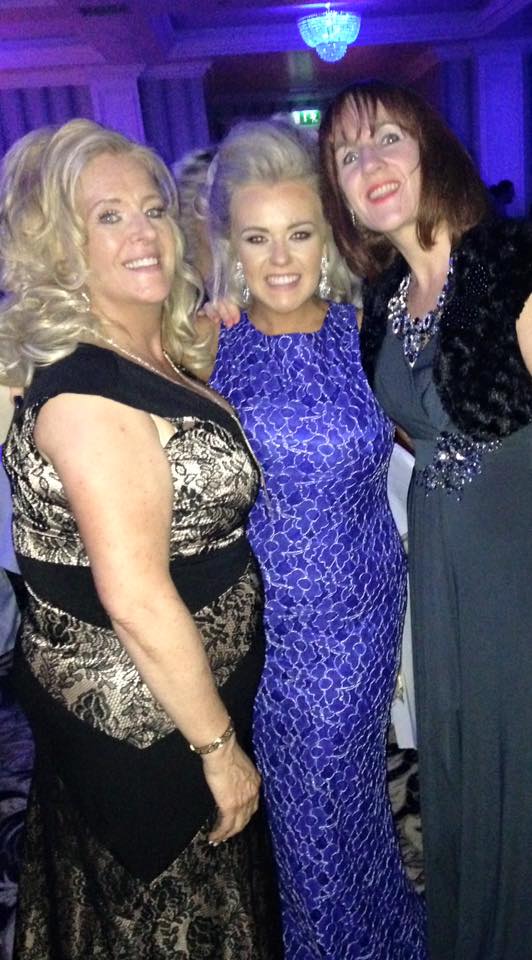 ABOUT Denise
Since 2011, I, Denise Devlin, founder of Positive Parties 'Training With A Difference' www.positiveparties.com have been involved in the world of Irish Dancing and have had the privilege of working with Irish Dancers all over Ireland, as well as travelling to work with dancers in the UK.
It all started when I was asked by the the successful McConomy-Bradley School of Irish Dancing, now the McConomy Bradley Doherty Academy, to assist their dancers reach their full potential using positive mental attitude and mindset tools and techniques. This included delivering coaching sessions to World Champions Cyra Taylor & Brogan McCay before The Worlds and current World Champion Caoimhe Devlin. Plus, delivering Positive Dancing workshops, then called Positive Parties @Dance, to all the qualifiers the weeks leading up to The Worlds.
In 2010, I saw a gap in the market for 'Training With A Difference' as I realised that businesses, companies, charities and public sector staff were rather bored with the traditional 'death by power point,' long lectures and pages of handouts. So, I created positive mindset training delivered in a 'party style' setting that would teach new methodologies using NLP, (Neuro Linguistic Programming), CBT (Cognitive Behavioural Therapy), Emotional Intelligence, Positive Phychology, plus motivation and productivity strategies and tools that would be positive & fun, thus Positive Parties® 'Training With a Difference' was born.' Clients include First Source, Allianz, Pramerica, Argento, Tesco's, Legal Island, Belfast City Council, Derry City & Strabane District Council, City of Derry Airport, City Hotel, Best Western, NWRC, Education Authority, Apex Hosing, Cooperation Ireland.
From this concept, a year later Positive Parties @Dance was born and I have been working with Irish Dancers ever since.
This new website is a breakaway from Positive Parties @Dance. This Positive Dancing brand will focus totally on training, coaching and resouces to assist in the positive mindset and attitude of all Irish Dancers, Irish Dancing Schools and Teachers and a support for Irish Dancers parents too.
My bacground is as follows:
I am a Communication Studies graduate, with a post graduate Professional Cert in Management and a Diploma in Community Development & Education. I holds an IIC accredited Diploma in Life Coaching from Noble Manhattan (Europe's leading Coach Training Company). I am a trained Facilitator and have a training for trainer's qualification in Essential Facilitation Skills as well as Certificates for CBT, Mental Health First Aid and Laughter Yoga. I also attended and received a Certificate in Leadership & Facilitation from The JFK School of Government, Harvard University.
I am a Certified Master Practitioner of NLP (Neuro Linguistic Programming), these methodologies I use fully, when working with Irish Dancers.
Although, I am not an Irish Dancer, this does in no way hindrance the quality of coaching and motivational training that I provide, in fact it enhanses the ablity to 'step out of the way' of the actual dancing and focus totally on the the attitude and the mindset. It also leaves great clarity, as I am not famialir with, nor do I get invloved in the 'politics' of Irish Dancing, therefore I bascially, and whole heartedly, assist the Dancers to be the very best they can be.
I enjoy connecting with Irish Dancers who LOVE to dance. They inspire me with their commitment, determination, disapline and passion. l love teaching them tools on how to, not only mentally prepare and overcome any challenges to their dancing, but to believe in themselves, heart and soul. And I do this in my own unqiue intuitive coaching and facilitating style, to ensure I make the Positive Dancing sessions inspiring and fun.
If you are interested in finding out more about my Positive Dancing coaching sessions and workshop training, then do call me or drop me a line and we can arrange a 15 minute complimentary consultation to discover if you, your child or student/s are willing to take on the challenge to mentally and passionately, become the BEST Irisher Dancer they can be. 
Best wishes and positive vibes on your Irish Dancing journey,
Denise 
Connect with me on
Social Media
or use the 'Contact Me' form below